BT Hope United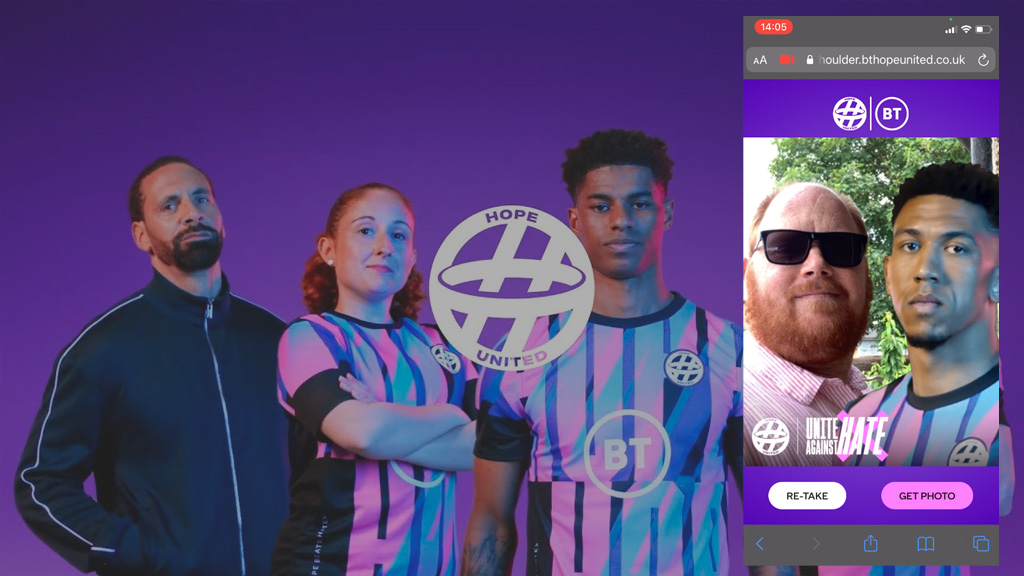 Client: BT
Agency: Publicis•Poke
15-06-21
A tactical activation which I conceived of and turned around with our production partner The 5Gs in two weeks from start to finish.
I was doing a little consultative work with our Saatchi colleagues on this groundbreaking campaign for BT in which they formed a squad of advocates from the professional men's and women's football world to combat the rising levels of online hatred in football.
On reviewing the green screen footage that had been produced, I saw an opportunity for a quick tactical win by reutilising this footage in a web based AR 'selfie maker' where users at home could take a snapshot with a squad member and pledge their support, standing literally 'shoulder to shoulder' with them.
I prototyped this myself to sell it into the client, including doing keying and basic roto which was enough to get it commissioned, and then found and engaged our production partner to turn around a fully fledged web app into production in record time.
The activation became a valuable support activity for the main campaign and was activated across the EE/BT retail store estate on digital signage.
--