BT Picadilly Lights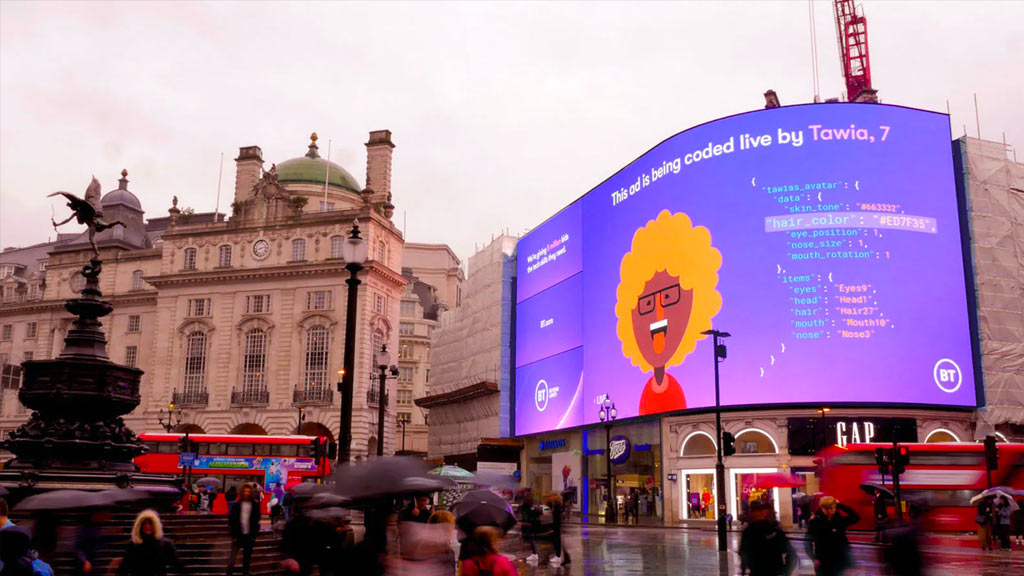 Client: BT
Agency: Publicis•Poke
01-11-19
In 2019, BT undertook their biggest rebrand in 20 years to reposition the company away from the mechanics and infrastrcuture of telecommunication and put it's role in our lives front of mind. A key component of this rebranding was a tangible commitment to programmes which used it's technology and expertise at the sharp end of our nation's digital transformation, executed under the creative banner "Beyond Limits".
A collaborative brand team between Saatchi London and Publicis•Poke came to me with a challenge to utilise the iconic Piccadilly Lights screen in central London in a technical first for operators Ocean for a one day activation that showed children how to code by creating their own avatars on a bespoke app.
These avatars were displayed on the world-famous screens at the London landmark, seen by the 273,972 people who pass through Piccadilly Circus every day.
My responsibilty was the end-to-end system design, creative coaching and development and delivery of both the bespoke iPad web application that the kids used to build their avatars and the method by which we would be able to transmit the application output in real-time up to the big screen. Whilst this called for a fairly simple socket based solution, there were technical challenges to overcome due to the high level of ingress security on the screens which involved building a custom renderer to allow the applications to operate within the Ocean walled garden.
This activation was a finalist at the 2021 Campaign Tech Awards.